Feedstuff Discovery - Corn Gluten Feed
Feedstuff Discovery - Corn Gluten Feed
---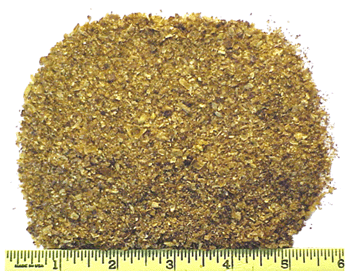 Corn Gluten Feed
By-product of the wet corn milling industry.
Consists of the dried residue remaining after the removal of most of the starch, gluten, and germ from corn.
Contains corn bran and soluble protein.
Primarily fed to ruminants as a source of protein and energy (high fiber content limits its use in monogastrics).
Average Nutrient Content
Ruminant TDN = 75%
Monogastric ME = 1050 Kcal/lb
Crude Fiber = 10%
Crude Protein =  21%
Physical Description - brown color with a flaky to powdery texture.