Prospective Pre-Veterinary Students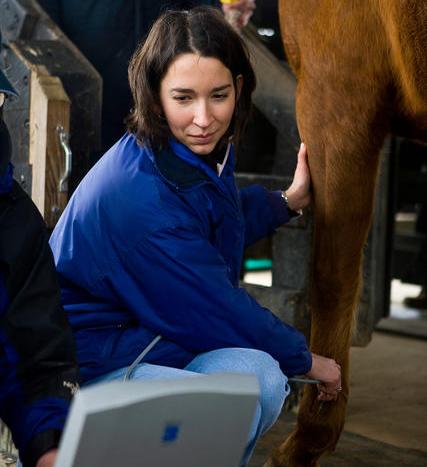 Thank you for your interest in the University of Kentucky's Pre-Vet Program
So, why should you come to UK ?
UK has the largest pre-veterinary program in the Commonwealth of Kentucky with two Pre-Vet Advisors who will provide you with the tools needed for a successful vet school application. Advisors are on hand to answer questions and meet each semester with students to facilitate prerequisite course completion.
UK students come from across the US, and have been successful in being accepted to their in-state or contract veterinary schools as well as to veterinary schools as out-of-state applicants. These students have strong GPA's, veterinary experience, community and leadership activities and have worked hard to compile a competitive application packet!
Central Kentucky offers students opportunities to work with world class equine veterinarians.  Volunteer and paid positions exist working with equine and small animal veterinarians, as well as large animal veterinarians and are announced on the UK pre-veterinary listserv.
UK pre-vet students have been successful in obtaining semester-long internships at Disney in Orlando, FL and at the Cincinnati Zoo in Ohio. Summer internships are also readily available. Opportunities exist for international study tours through the College of Agriculture, Food and Environment.
Students have a direct line of pre-vet information via the pre-vet listserv and pre-vet Canvas pages. Updates on vet school requirements, course equivalencies, job and volunteer opportunities, guest speakers and more is regularly sent out to UK pre-vet students through email and Canvas annoucements. 
The UK Pre-Vet Club is one of the largest clubs in the College of Agriculture, Food and Environment, and can provide the leadership and community service activities that are desired by veterinary schools.
The UK Pre-Vet program holds Mock Interviews to prepare applicants for the "real" veterinary school interview.  The mock interviewers are faculty and local veterinarians who have actually served on veterinary school selection committees.
UK offers student support in many different areas. The Office for Student Success, the James W Stuckert Career Center, Transformative Learning, the Center for Student Success and many others, cater to the needs of UK students.


---
 Interested in learning more? Come visit UK! Set up a tour and schedule a meeting with your Pre-Vet Advisor today! 
General campus tour and informational session about UK - University of Kentucky Visitor Center
College of Agriculture, Food and Environment tour and Pre-Vet Advisor meeting
Pre-Vet Advisor Meeting (for those not interested in the College of Agriculture, Food and Environment) - Colette.Tebeau@uky.edu
For more information contact:
Ms. Colette Tebeau

Pre-Vet Academic Coordinator

 

 

University of Kentucky

Department of Animal and Food Sciences

804 W.P. Garrigus Building

Lexington, KY 40546-0215

Phone: (859) 257-7551 

Email: Colette.Tebeau@uky.edu