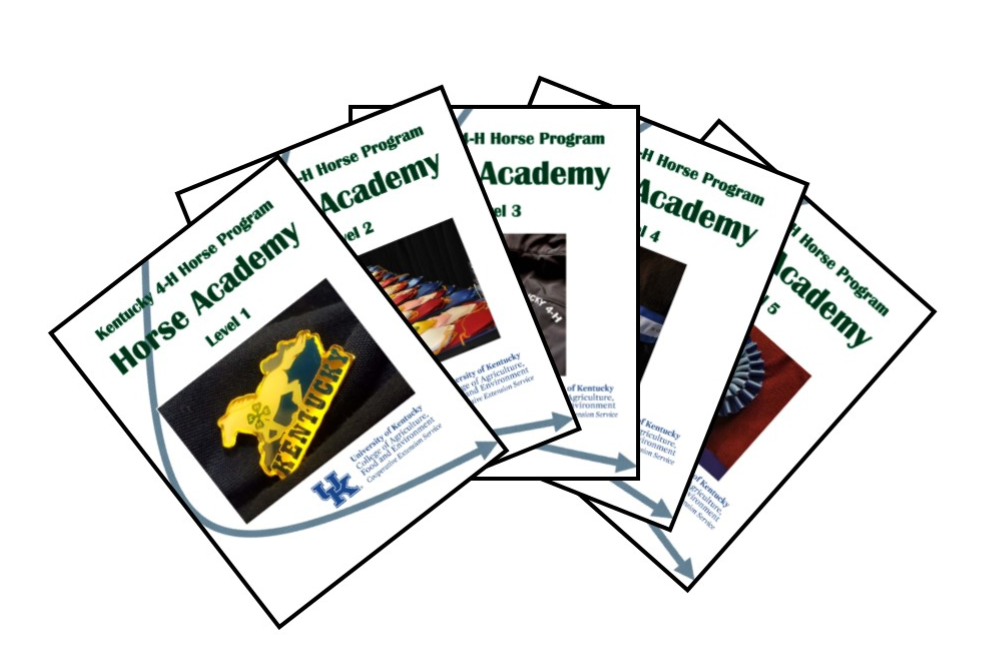 Welcome to the Horse Academy Home Page!  Here you will find links to resources, order forms and instructions on how to use the work books.  
Horse Academy Work Books
The 4-H Horse Program has decided to post the Horse Academy Workbooks online since many clubs are unable to meet in person due to Covid-19.  You may still order a hard copy of the workbook with the order form below. 
Horse Academy Instructions

Level Completion Exams: Contact your County Agent.
Agents: for the Level Completion Exams, go to the Kentucky 4-H Teams Group. Go to "Agriculture Channel". Go to Files, Educational Resources, and click on "Horse". Information about the exams will be on the "Horse Academy Information" document.
Horse Academy Resources
Individual Accomplishments:
 Level 1: Bronze
The following individuals have completed the requirements for the Level 1 Horse Academy
Olivia Russell          Daphnica Wood        Angie Waddell             Aralyn Jordan
Logan Graves         Simon Walther          Gracie Blacketer         Alayssa Baker
Anna Waddell         Clare Walther            Chloe Ulshafer           Colton Johnson
Rose Miller              Lena Miller                Anavay Sims              Avonlea Stewart        
Level 2: Copper
Anne Walther        Xiomara Arias            Avery Cole
Grace Baskin        Jacelyn Weeks          Anne Howard Waugh
Laura Baskin         Abbey Bouldin          Kenzie Rotermann
Avonlea Stewart   Brenna Bouldin
Level 3: Silver
Level 4:
Level 5:
Once a level has been completed (all lessons, activities, and skills completed and signed off by Volunteer Leader), the 4-H'er may take the Level Completion Exam. The Exam must be taken under the supervision of Extension Personnel. The Exams can be found on the Agents Resourse Page under "Horse Academy"