Butcher Shop
Butcher Shop Times/Location
Open:
Location:  
Garrigus bldg basement
(Door by loading docks)
325 Cooper Drive
Lexington, Ky
Butcher Shop Manager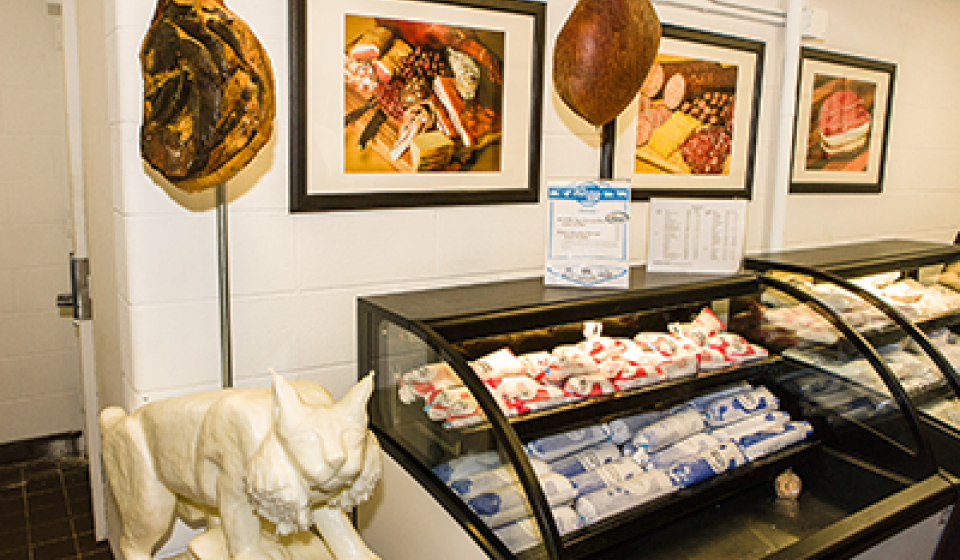 The University of Kentucky Butcher Shop is located in the basement of the W.P. Garrigus Building and is open to the public Wednesdays and Fridays (1:00 - 5:00pm).  The UK Butcher Shop has been described as a boutique shop, meaning that we do not have a consistent supply, but we sell meat from teaching and research animals that are available.  
The UK Butcher Shop sells beef, pork, and lamb from the UK farms in Woodford County and/or the Research and Education Center at Princeton.  We offer a variety of sausages including Breakfast Sausage, Maple Sausage, Bratwurst, the Wildcat Tail (cheese filled bratwurst), the Bourbon-Apple Bratwurst (Kentucky apples are cooked in bourbon), and Italian Sausage (fresh basil and oregano are used in our recipe).  In addition, a variety of charcuterie items are available including Spanish-style Chorizo, Landjaeger, Genoa Salami, and dry cured Country Bacon.  
The UK Butcher Shop's signature item is the Spicy Fat Cat, an all-beef sausage infused with habanero cheese.  Don't let the name fool you, it has just enough spicy kick to make it fun.  The Spicy Fat Cat can be found at the UK Butcher Shop, Commonwealth Stadium, and at Rupp Arena during Men's Basketball games.  All proceeds pay the maintenance on the meats lab, judging team travel, and student travel.  Please friend us on Facebook for UK Butcher Shop (University of Kentucky Butcher Shop) news and product availability.  
Butcher Shop News & Events
Upcoming Events
News
Meat Science Social Media