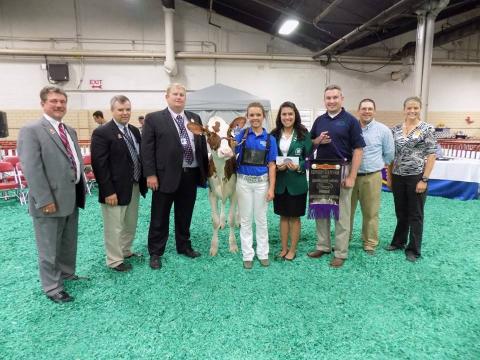 Showing dairy cattle can be a fun and rewarding part of the 4-H dairy animal project. 
Here are few things you need to know before you will show in 4-H.
1. Animals both registered and grade need to be owned by the youth by June 1st.  Partnerships are allowed but the youth must be one of the names listed on the registration paper recorded with the breed association.
2.  All educational hours need to be completed by June 1st.  Record of this is kept on file at the local county extension office.  Extension Agents will be asked to sign off on entry forms letting everyone know the youth is a 4-H member in good standing (completed enrollment form and hours).
3. Unlike other species there is no tagging in or declaration forms to complete.  New this year there is a form available online for agents to complete to let us know who has completed the requirements to show dairy in 4-H for the year.  The link to the form is https://uky.az1.qualtrics.com/jfe/form/SV_5nmg0UgljxYWNWC.   Agents will need to complete this form by June 2nd.
4.  District Dairy Shows are sponsored by the Kentucky Department of Agriculutre Division of Shows and Fairs.  Rules for those are listed on their website. Dairy animals do not have to show at a district show to compete at the Kentucky State Fair.
5. Kentucky State Fair Youth Dairy Show rules are listed on the Kentucky State Fair Website.
  Listed below are some resources to help get you started showing dairy animals.
Kentucky Livestock Judges List (Some possible county fair dairy show judges are also listed)
District Dairy Show Information
District Dairy Show Entry Form
Certificate of Identification for Grade Animals
Holstein Foundation Workbooks - Good resource material for those who need more information
Kentucky Department of Agriculture Dairy Show Information
Kentucky State Fair     Entry Deadline is July 10th
2014 Kentucky State Fair Dairy Skill-a-thon
Preparing a Dairy Animal for Show