State 4-H Dairy Jeopardy Contest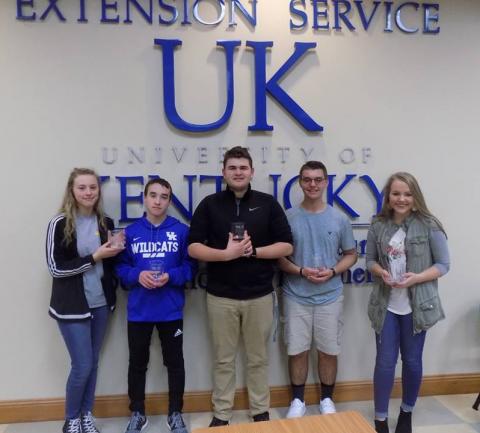 2018 Kentucky 4-H Dairy Jeopardy Contest Senior Winner 
Kelly Baird, Spencer County, John Linkous, Metcalfe County, Jackson Shelley, Spencer County, Josh Dunkelberger, Spencer County and Madison Goodlett, Spencer County
 
This contest is an annual event that allows 4-H members ages 9 to 18 to show off their knowledge of the dairy industry by answering questions on a wide variety of dairy topics.  Topics include:  nutrition, reproduction, genetics, showing, judging, dairy products, milking, and lots more.  This contest replaced the State 4-H Dairy Quiz Bowl contest.
Date:  March 2024
Location:  Shelby County Extension Office
Registration Deadline:  Please return registration forms to Larissa Tucker by March 1, 2024.
Click on the items below for more information
Registration Forms Download form to complete
Holstein Foundation Study Questions