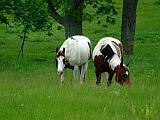 Kentucky is known as the horse capital of the world. The horse industry in 2010 generated more than $4 billion in farm gate receipts, the largest of any livestock commodity in Kentucky, and generated more than 31,000 jobs in Kentucky. While the Thoroughbred industry leads the state in terms of income generation and visibility, there is an active sport and recreation part of the industry that is outside of racing. The 2005 American Horse Council survey reported that more than 50 percent of the horses in the state are used in non-racing activities such as showing and recreation. Although the population of Quarter horses in the state is larger than the Thoroughbred population, there are also significant numbers of other breeds in Kentucky, such as the American Quarter Horse, the American Saddlebred, Tennessee Walking Horses, Racking Horses, Standardbreds, American Paint Horses, Sport Horses (warmbloods), and others. In total, it is estimated that there are approximately 320,000 horses in Kentucky. Currently a comprehensive survey of the state's horse industry is being undertaken. It is anticipated that by December 2012 results will be available showing how many horses, ponies, donkeys and mules are in the state and where they are. In early 2013 the economic impact information on the industry will be available.
In 2006, a Breeders Incentive Fund for non-race horse breeds was developed by the state legislature. This fund, derived from the state sales tax on stallion service fees, has been used to establish breeder incentives for non-race breeds in Kentucky. As of 2011 there are 11 non-race breeds with approved incentive programs supporting their breed activities. The result has been increased equine activity and economic development across the state.
In addition to the economic value of the horse industry, there is a significant social value. Many horse owners are turning to the horse as a means of family recreation. The youth activities in the state include a very active horse program. Currently more than 5,000 youth are enrolled in the 4-H Horse Program.
While the horse industry has had many challenges in the past due to the economy and cost of horse ownership people are still purchasing horses for use in sport and recreation activities. Many of these horse owners have limited experience with horses and are often from a non-agricultural background. This group seeks basic non-technical information on nutrition, health care, facilities, basic training, and riding so they can enjoy their horses in recreational activities. To meet this need for information, the Extension special¬ists and associates coordinate and deliver a wide variety of educational activities across the state for both youth and adult audiences. Providing information to those involved in the 4-H program is more direct, but it is somewhat difficult in targeting the adult horse owner. As mentioned, many of these people are new to the horse industry and may not belong to any equine-related association. Nor do many of these people routinely consult their county Extension agent. The biggest challenge is finding the most appropriate method of providing information to these new horse owners.
For additional Equine Resources, click HERE
To learn about the latest equine research conducted at the University of Kentucky, sign up for the Bluegrass Equine Digest
2013 Extension Report and Directory
For more information, contact: