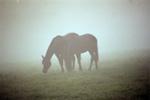 The University of Kentucky has been long known as a leader in equine research. A research program in equine nutrition began more than 35 years ago and continues to be very active. However, other types of equine research are conducted by faculty members in the Department of Animal and Food Sciences; and our faculty also collaborate with scientists in other departments and at other institutions. Additional information about the types of research conducted by individual faculty members can be obtained from faculty web pages (see list of faculty below).
An important component of this program is the training of graduate students in equine research. Both M.S. and Ph.D. programs are available. Graduate students in the Department of Animal and Food Sciences take courses, complete a research project and write a thesis. Research topics are designed to accommodate the interests of the student and their graduate advisor. In addition, research topics are influenced by the availability of funding and other resources. Graduate students are encouraged to present their results at scientific meetings and to publish their research in scientific journals.
Graduate admission is competitive and prospective students are encouraged to contact individual faculty members about specific research opportunities.
Information about the application and admission process for graduate school.
Faculty who advise graduate students and conduct equine research in the Department of Animal and Food Sciences include:
Research related to horses is also conducted in other departments in the College of Agriculture, Food and Environment. For more information on other research programs, go to: