Sheep Research Facilities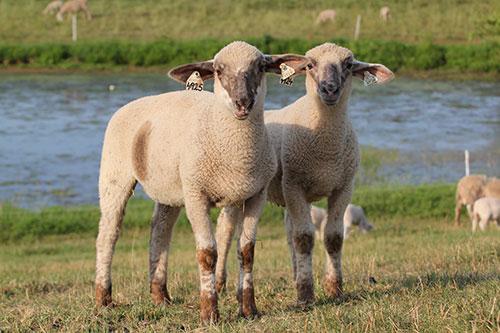 The 350-ewe flock is located in 110 acres of the 1500-acre Animal Research Center. Sitting in the center of this acreage is a Lambing Barn, Nutrition Center, Office Complex, and Student Quarters. The 336 x 48-foot Lambing Barn contains 12 pens, each with enough square footage to maintain 20 ewes and their twin lambs. Each pen opens to a 32 x 44-foot gravel "runout." These pens will also be used for drylot lamb feeding. Four bays of 4 x 5-foot lambing pens are located in the center of the barn. Each bay can house 16 ewes and their newborns. These pens can be transformed into 32 individual lamb feeding pens. The entire barn is wired for computerization and video recording. Adjacent to the Nutrition Center are grain bins and silos that are computer operated and linked ration mixers. Rations are conveyed into a PTO-driven mixer wagon and augured into concrete bunks inside the barn or into fence-lined pasture bunks. The Office Complex contains a multi-purpose room for university classes and extension meetings, a research sample prep laboratory, and an office area. Adjacent to the Office Complex are two "efficiency apartments" for undergraduate student workers.
Sixteen, 3-acre pastures surround the central location in a wagon wheel configuration. All exterior fencing is electric, nine-strand, high tensile. These pastures will allow evaluation of forages by sheep produced in different management systems. Other land use include eight pastures for mixed species grazing, six pastures for riparian grazing research, and four pastures to evaluate winter grazing programs.
The Sheep Unit is designed to maximize forage evaluation research. Opportunities are available to conduct intensive research in the areas of milk production, creep feeding, digestibility, growing-finishing, and wool production. Many of the animals will be used for simultaneous "hands-on" undergraduate and extension education activities.