Swine Research Facilities
The new swine research center is located about 12 miles west of Lexington.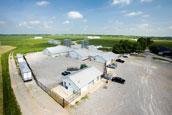 Three site production (Headquarters-Gestation-Farrowing Unit, Nursery Unit, Grow-Finish Unit)

Size: 120 sows (24 farrowings every 4-5 weeks), 250 litters/year, 3-week weaning

Breeding: Rotational crossbred; Yorkshire-Landrace F1, x terminal male

Finish out about 1/2 of pigs
---
BUILDINGS
Swine Headquarters, Breeding - Gestation - Farrowing Buildings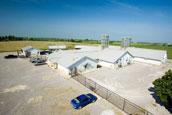 Headquarters Building
Office.
General purpose room.
Employee break room.
Field labs, wet and dry.
Dressing rooms, lockers, showers.
Chemical storage.
---
Breeding-Gestation Building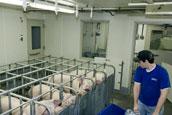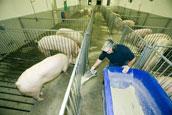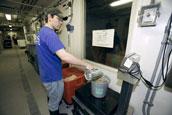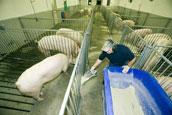 Pens for transition gilts.
Boars for estrus stimulation.
Boars for heat checking.
Breeding area.
Active gilt pool.
Weaned sows in individual stalls.
Breeding pens.
Boars for heat checking.
Gestation area.
Bred gilts and sows in individual stalls.
Feed storage and scales.
---
Farrowing Building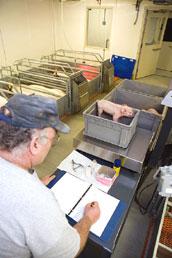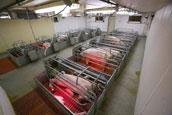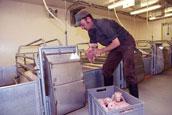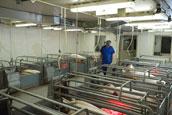 Sow wash-up area.
3 farrowing rooms with 12 crates/room.
Feed storage and scales.
---
Nursery Building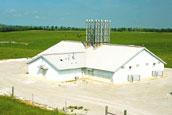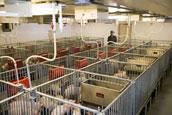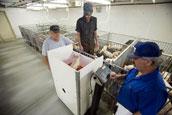 4 nursery rooms with 32 pens (4 x 4 ft)/room.
Feed storage and portable scales.
---
Grow-Finish Building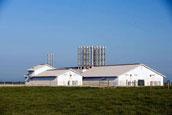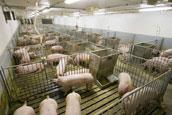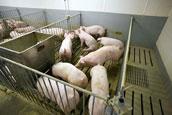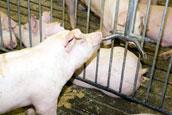 3 conventional rooms with 24 pens (6 x 10 ft)/room.
1 room with 72 individual pens (2 x 8 ft)/room for finishing pig studies.
1 rooms with 48 individual pens (2 x 5 ft)/room for growing pig studies.
Feed storage and scales.
---
Boar Stud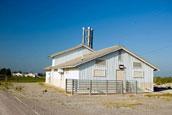 Temperature controlled (air conditioned) building.
Pens for herd boars.
Semen collection and processing area.
---
General Purpose Building
Shop.
Equipment storage and shelter.
Equipment clean-up area.
Walk-in cooler for dead animals, afterbirth disposal.
---
Waste Handling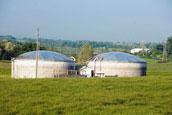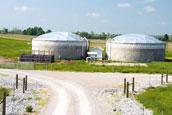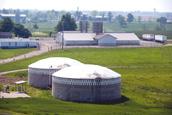 Above ground storage of manure
Pumped underground to field storage.
Injected into cropland.