Feedstuff Discovery - Ground Shelled Corn
Feedstuff Discovery - Ground Shelled Corn
---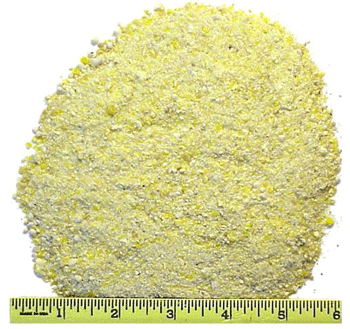 Ground Shelled Corn
Shelled corn that has been mechanically processed through a hammer mill.
Reduces the particle size, increases surface area, and improves energy utilization.
Actual particle size of ground corn will depend on screen size and power of the hammer mill.
Coarser grinds are preferred for ruminants, and finder grinds are generally preferred for monogastrics.
Average Nutrient Content
Ruminant TDN = 90%
Monogastric ME = 1550 Kcal/lb
Crude Protein = 8.5%
Physical Description - yellow and white color, fine to coarse particle size, and a granular to powdery texture.