Animal Research Center Beef Unit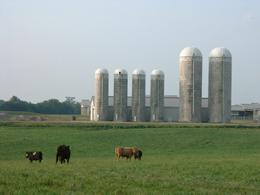 Research
The Beef Unit is home to a variety of research activities, which will involve a number of disciplines and span the spectrum from basic to applied research. These facilities provide the opportunity to generate innovative, unbiased research to address beef production and profitability.
Extension
The ARC serves as an educational center Kentucky's beef producers. Facilities are available for field days as well as focused training and transfer of the latest technologies.
Instruction
It is becoming increasingly important to provide students with hands-on opportunities with animals to increase their understanding and appreciation for real-world applicability of concepts taught in the classroom. The ARC beef cattle herd is used for several courses taught by faculty in the Department of Animal & Food Sciences.
Web site maintained by the 
Animal & Food Sciences Webmaster
Please send comments or queries to 
Dr. James C. Matthews
Contact
On site at the UK Beef Unit, or on campus, get the information you need straight from the source.
View a virtual tour of the new BEEF UNIT at the Agricultural Resource Center (ARC) in Woodford County.